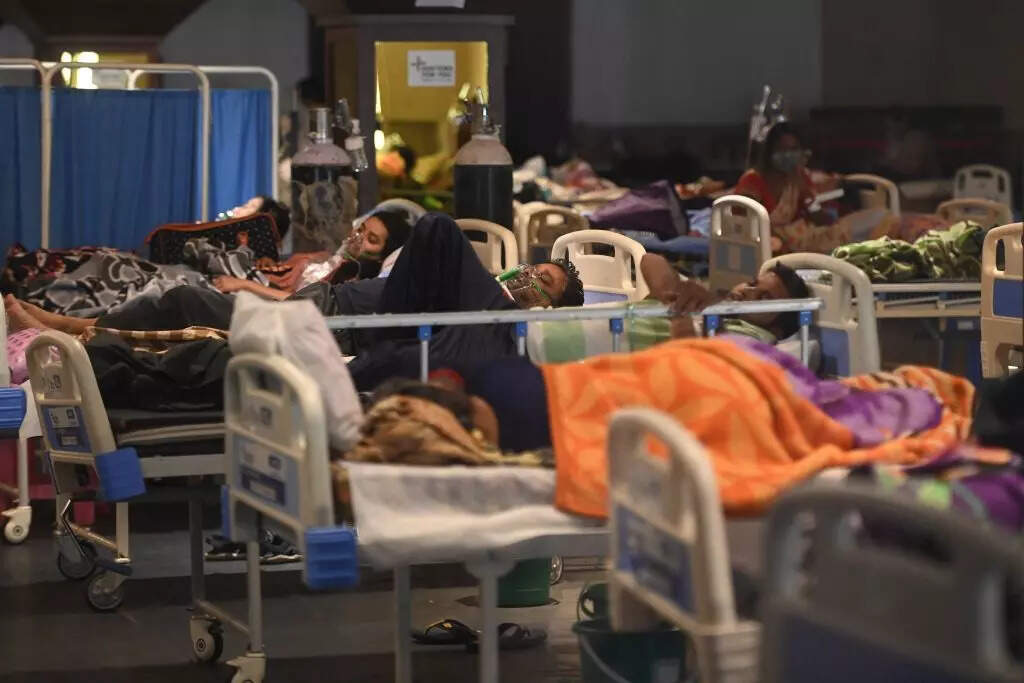 PUNE: Going by the pattern of Covid-19 patients admitted to intensive care items of hospitals in town, totally vaccinated persons are much less prone to coronavirus-induced severe sickness.
A majority of patients presently being handled in the hospitals' intensive care items (ICUs) had been unvaccinated and an enormous chunk of them was in the age group of under 45 years, acknowledged treating medical doctors. The ICU admission pattern coincided with the bottom vaccination numbers in the under-45 age bracket and underlined the significance to hasten Covid immunization in this younger, productive, and extremely cellular class, specialists burdened.
Noble Hospital's infectious illnesses professional Ameet Dravid stated, "From August, we have treated 52 Covid patients in our hospital's ICU. Of them, 31 patients (approximately 60%) were unvaccinated against Covid-19."
Among the remainder of the 21 Covid patients in the hospital's ICU, a complete of 10 had taken a single dose of Covid vaccine and 11 had taken each doses, Dravid stated.
Twenty-one of the 52 ICU patients (40%) had been under 45 years of age. Of the remaining 31 ICU patients, as many as 18 had been above 60 years and 13 had been in the 46-60 years age bracket.
"Our analysis of the hospital-based data revealed that the current ICU admission trend of Covid patients was driven by those who have not yet opted for vaccination. We shall continue to see the impact of Covid among the unvaccinated and it is primarily among them that we see the majority of severe illnesses, hospitalizations and deaths," Dravid stated.
"The vaccine is really protective in terms of avoiding hospitalization or death, and a majority of people we are seeing that are sick and ending up hospitalized and on ventilators, are unvaccinated patients," he added.
Noble Hospital in Hadapsar is the primary level of referral for hospitals in rural components of Pune and adjoining districts like Ahmednagar and Solapur due to its straightforward-to-method location. "That's also the reason why we have more patients in Covid ICU than most other hospitals in the heart of the city," Dravid stated.
At Deenanath Mangeshkar Hospital, a complete of 12 Covid patients are present process remedy in ICU. Of them, six are unvaccinated. "All those unvaccinated are below 45 years," stated the hospital's chief intensivist Prasad Rajhans.
Rekha Dubey, the chief government officer (CEO) of Aditya Birla Memorial Hospital in Chinchwad, stated, "It is very sad to see young and unvaccinated adults seeking care for Covid when a potent protection against Covid-19 is available and is given free at many centres."
Only six of the 32 Covid patients admitted at Sahyadri Hospital's ICU in the previous few days had been vaccinated. "Of them, two were fully vaccinated and four had taken a single shot. The rest 26 were unvaccinated," stated the hospital's chief working officer, Abrarali Dalal.
Physician Aniket Joshi, an ICU advisor at 10 totally different personal hospitals in the core metropolis areas, stated, "Currently, we are getting sporadic Covid patients who need ICU care. It is true that a sizable number of mild or moderately ill Covid patients we see are unvaccinated. Overall, Covid cases from the city areas are very few."
Joshi is visiting ICU advisor at Poona Hospital, Pune Cantonment Board-run Sardar Vallabbhai Patel General Hospital, Tarachand Hospital, ONP Meera Hospital and Alliance Hospital, amongst others.
Loni-Kalbhor primarily based Visharaj Hospital's chief intensivist Kapil Borawake stated, "It is my observation that those who need hospitalisation are most often unvaccinated or partially vaccinated or have got the first shot recently and this has not allowed enough time for the body to mount the adequate immune response against the contagion."
Pune Municipal Corporation's nodal officer for Covid, Sanjeev Wavare, stated, "We shall take up the analysis of the data of Covid patients on oxygen therapy and in ICU in terms of their vaccination status. The overall observation is that more unvaccinated people are seeking care than those vaccinated."
#Note-Author Name –